Engagement Photo Lollipop Bridal Favors - Say Yes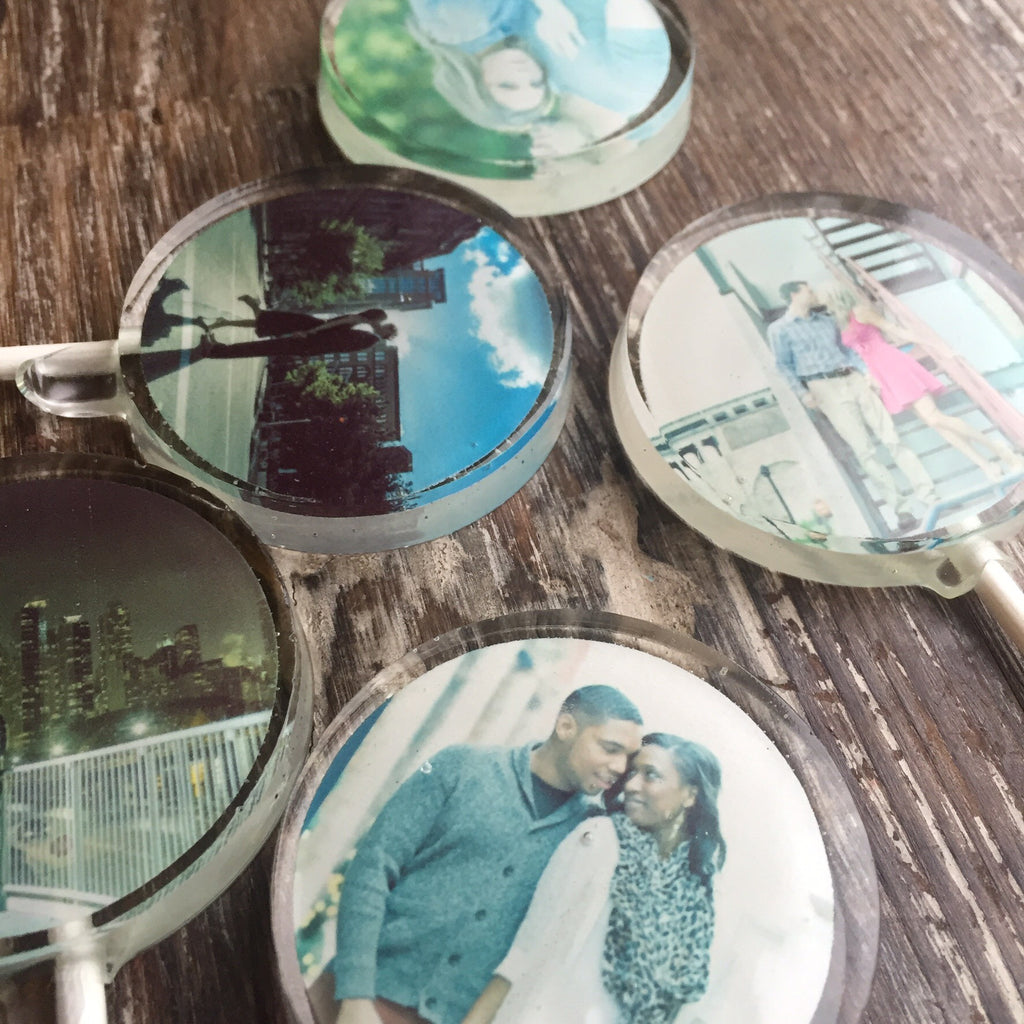 The marriage engagement tradition varies from culture to culture.  Even so, there are some basic commonalities among many societies.  For example, the engagement ring is a standard among many traditions.  The wedding ring offering, is worn on the digitus annularis or ring finger, which many ancients describe as the magic finger.  Ancient Egyptian wisdom tells us that the ring finger is connected to the heart by a vein that the Romans called Vena Amoris, "The Vein Of Love".  How can she not say yes when you are placing your sincerest intentions around her finger and around her heart?!
Another engagement custom provides that the groom send his wife-to-be a bridal bouquet and a similar, but not the same bouquet to his mother- in law.  These gestures solidify the engagement and commence the journey to the formal wedding ceremony.
Whatever custom you decide to practice, Never Forgotten Designs has the sweetest lip smacking lollipop flavors to give your bridal parties a delicious punch.  Our personalized engagement photo lollipops are a gorgeous addition to your bridal gifts and favors.  Grooms! Send your wife to be and her mother, a box filled with our engagement photo lollipops to affirm your forthcoming nuptials.  Brides! After he wraps your vein of love with that sparking diamond wedding ring, send him a bunch of our engagement photo lollipops as a 'very yes' to his popped question. 
Send us your favorite engagement photos, love photos, monograms, logos, love notes, and marriage inspired text via email or in your order notes and we will spin our magical sugar isomalt confection around your memories giving you a crystal clear sugary delight for each other and all your celebrants.  Our personalized lollipops are the sweetest reminders to say yes all along your marriage journey. Say 'yes' to your love.  Say 'yes' to your life.  Say 'yes' all the days of your life.
 Engagement Photography Courtesy of White-Klump Photography St. Louis