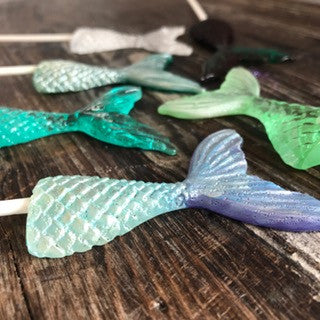 Under the Sea Mermaid Tail Cupcake & Lollipop Workshop
Come to The Studio in St. Louis and make some treats for an under the sea adventure! This class will help you learn to make your own mermaid tails, scales and more!
You Will:
- Work With Chocolate & Fondant
- Learn the Basics of Working With Molds
- Practice Various Cupcakes Piping Techniques with Buttercream
- Decorate 4 Cupcakes Using Different Decorating Styles
- Learn to Hand Paint on Chocolate and Fondant
You Will Bring Home:
4 Under The Sea Decorated Cupcakes Boxed & 3 Guittard Chocolate Lollipops 
Seats are limited to 11 people per workshop offering. Recommended for ages 10 and up, mature children through adults. All supplies are provided! If you have purchased a spot for someone other than yourself, please reply with the name and age of each person who will be attending so we know who to expect after checkout! Please note, due to the limited spaces available, refunds are not available. If you need to cancel, a credit for a future class will be given if cancelled MORE THAN 72 hours before the class start time.
Returns Policy
NFD does not offer refunds on items. We take great pride in our designs, custom confectionery pieces and limited confectionery supply items. If you need color help, feel free to contact us before buying to get more pictures / videos, as we can not take returns because you did not like the color you selected. Please note, if you would like to test a product or color, come into the St. Louis Studio and try a product before buying. In the event of a special circumstance, please contact us so that we can resolve any problems with your order.
Please read our full Shipping & Return Policy Here.
Please note that sugar art items only ship AFTER they are produced. Since some items are custom, with different amounts of time needed to create based on the product, order size and current workload. Please read our full Shipping & Return Policy Here.
Shipping
Never Forgotten Designs is located in St. Louis, MO and therefore is central for most shipping locations. Most small orders ship for $4.25 Flat Rate. USPS is NOT Guaranteed Service unless you pay for EXPRESS. Please read our full Shipping & Return Policy Here.
In stock items ship out within 24-48 business hours. If you have purchased an item out of stock, we will contact you to offer a refund, hold order till new shipment arrives or alternative product. Please understand because we have a retail store, inventory may sell out quickly. Please read our full Shipping & Return Policy Here.
https://www.neverforgottendesigns.com/pages/shipping-returns
Sizing Information for specific prodcuts can be found on the product description. For help sizing your edible creations, here are some useful links from NFD.
Edible Images Sizing Information & Templates Blog
Cake Wraps© Measuring Based on Tier Size