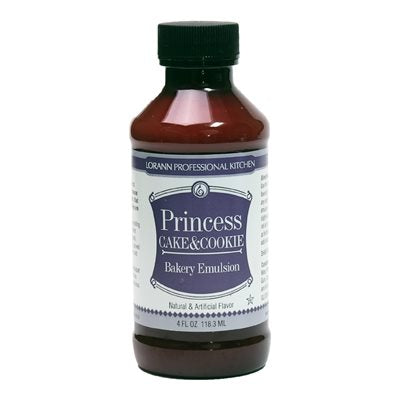 LorAnn Cookie Princess Cake & Cookie Bakery Emulsion Flavoring
LorAnn's Princess Cake and Cookie emulsion has a light, nutty taste accented with undertones of citrus and rich vanilla. Princess Cake & Cookie Emulsion will be the "secret ingredient" in your cookies, cakes & frostings!

Use it wherever you want to impart a creamy flavor. Delicious as a flavoring for buttecream frosting.  Substitute Princess Cake and Cookie in your recipes calling for vanilla extract for a winning flavor update. 

1 teaspoon baking extract = 1 teaspoon emulsion
4 oz. & 16 oz. sizes packaged in BPA free, recyclable PET plastic bottles.
Water-based • Gluten-free • Kosher • Soluble in water 
The Studio by Never Forgotten Designs is a brick and mortar sugar studio with a certified commercial kitchen. All confectionery supplies are purchased directly from the manufacturer and kept in compliance with local & federal health regulations at our retail location for your safety. We do NOT repackage our Edible Paints or Relabel. Please be careful when buying edible products online to ensure the integrity of your products. 
Returns Policy
NFD does not offer refunds on items. We take great pride in our designs, custom confectionery pieces and limited confectionery supply items. If you need color help, feel free to contact us before buying to get more pictures / videos, as we can not take returns because you did not like the color you selected. Please note, if you would like to test a product or color, come into the St. Louis Studio and try a product before buying. In the event of a special circumstance, please contact us so that we can resolve any problems with your order.
Please read our full Shipping & Return Policy Here.
Please note that sugar art items only ship AFTER they are produced. Since some items are custom, with different amounts of time needed to create based on the product, order size and current workload. Please read our full Shipping & Return Policy Here.
Shipping
Never Forgotten Designs is located in St. Louis, MO and therefore is central for most shipping locations. Most small orders ship for $4.25 Flat Rate. USPS is NOT Guaranteed Service unless you pay for EXPRESS. Please read our full Shipping & Return Policy Here.
In stock items ship out within 24-48 business hours. If you have purchased an item out of stock, we will contact you to offer a refund, hold order till new shipment arrives or alternative product. Please understand because we have a retail store, inventory may sell out quickly. Please read our full Shipping & Return Policy Here.
https://www.neverforgottendesigns.com/pages/shipping-returns
Sizing Information for specific prodcuts can be found on the product description. For help sizing your edible creations, here are some useful links from NFD.
Edible Images Sizing Information & Templates Blog
Cake Wraps© Measuring Based on Tier Size