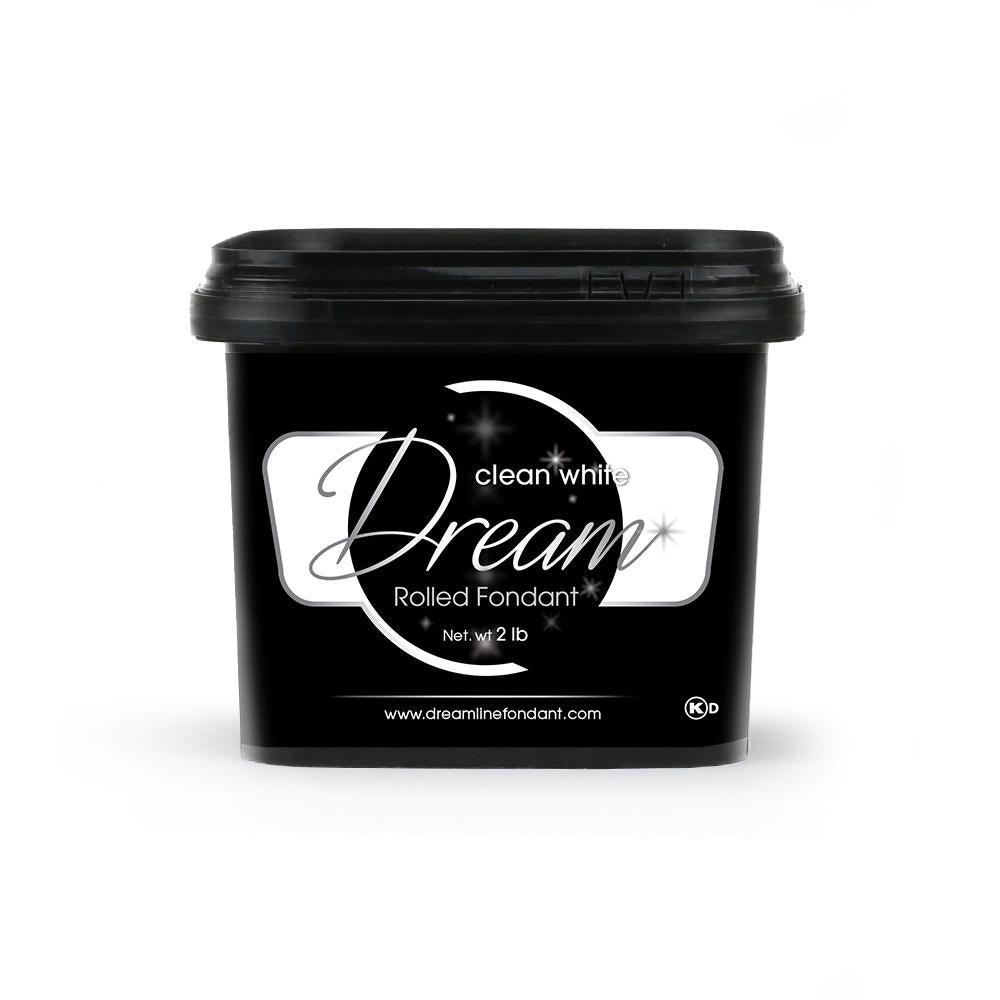 Dream Fondant
Dream Fondant now available in our St. Louis cake supply store or in stock to ship fast! Clean White Dream fondant is a "hybrid" fondant with a great chocolate taste, perfect for decorating cakes, cupcakes and cookies. It's easy to work with, rolls thin with no cracking. 
1 - 2 Lb White Dream Fondant Tub
Note: As Dream fondant is made with chocolate, it does require kneading prior to use. For best results, remove fondant from container and place in microwave on HALF power for 10 second bursts - making sure not to burn or overheat the fondant. Alternatively, knead small amounts of fondant until pliable, adding each well kneaded portion together until all is pliable.
Manufactured in the USA by the makers of Choco-Pan and Satin Ice.
Gluten Free, Trans Fat Free, Nut Free, Kosher Dairy and Vegetarian. Contains Milk.
Ingredients
Sugar, white chocolate (sugar, vegetable oil [palm kernel oil, hydrogenated palm kernel and cottonseed oils], nonfat dry milk, milk, glyceryl lacto esters of fatty acids, soy lecithin, salt, and artificial flavor), corn syrup, palm oil, water, vegetable gums (gum acacia, xanthan gum), sodium carboxymethyl cellulose, titanium dioxide, natural and artificial flavors, citric acid, glycerin, potassium sorbate.
Returns Policy
NFD does not offer refunds on items. We take great pride in our designs, custom confectionery pieces and limited confectionery supply items. If you need color help, feel free to contact us before buying to get more pictures / videos, as we can not take returns because you did not like the color you selected. Please note, if you would like to test a product or color, come into the St. Louis Studio and try a product before buying. In the event of a special circumstance, please contact us so that we can resolve any problems with your order.
Please read our full Shipping & Return Policy Here.
Please note that sugar art items only ship AFTER they are produced. Since some items are custom, with different amounts of time needed to create based on the product, order size and current workload. Please read our full Shipping & Return Policy Here.
Shipping
Never Forgotten Designs is located in St. Louis, MO and therefore is central for most shipping locations. Most small orders ship for $4.25 Flat Rate. USPS is NOT Guaranteed Service unless you pay for EXPRESS. Please read our full Shipping & Return Policy Here.
In stock items ship out within 24-48 business hours. If you have purchased an item out of stock, we will contact you to offer a refund, hold order till new shipment arrives or alternative product. Please understand because we have a retail store, inventory may sell out quickly. Please read our full Shipping & Return Policy Here.
https://www.neverforgottendesigns.com/pages/shipping-returns
Sizing Information for specific prodcuts can be found on the product description. For help sizing your edible creations, here are some useful links from NFD.
Edible Images Sizing Information & Templates Blog
Cake Wraps© Measuring Based on Tier Size
Product Added to Cart
Product Added to Wishlist