Excuse Me, But You Have Sparkles In Your Teeth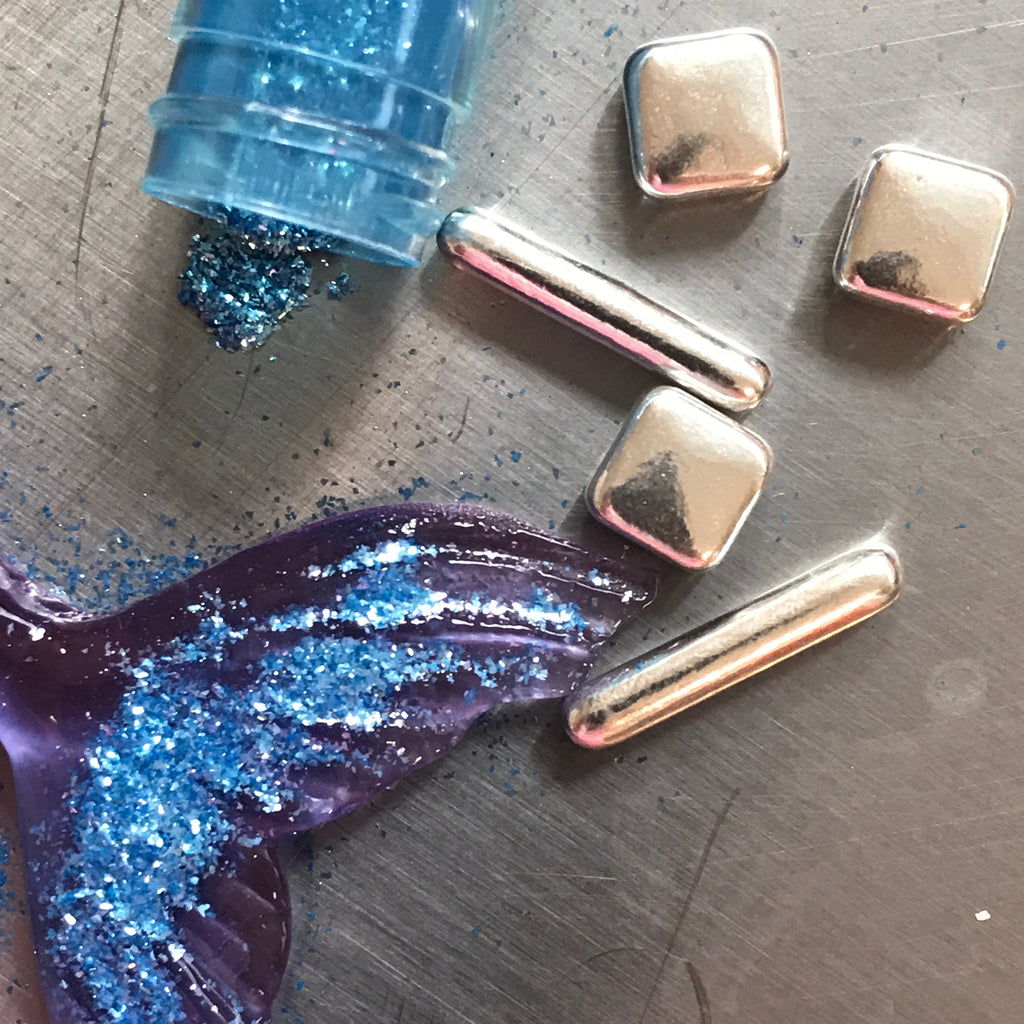 It's undeniable, edible glitter with real sparkle has long been in demand for cakes, cupcakes, cakepops and more. Navigating through the products on the market that are merely plastic, completely using false advertising and then those who truly carry a food grade dust that sparkles and shimmers can be overwhelming. I wanted to share the product that we trust and use when we need sparkle on our edible art pieces including our lollipops, cake toppers, sugar art pieces and to add into our drinks, just for fun!
Jewel Dust® used on a Edible Sugar Art Unicorn Horn By NFD

The debate whether non-toxic products comply with FDA regulations and ethics is not difficult once you look at it logically. Only items that include FDA approved ingredients should be ingested and the very last thing most people intend to do is offer finished treat and drinks that are not only unethical, but is also against the law . Many customers I have had in the past have used a product called Disco Dust®, which while a beautiful product which works great on non-edible decorations for your edible creations, it does not use FDA recognized ingredients and is made from plastic. The manufacturer of Disco Dust® does NOT present this dust to the confectionery art community as edible. But, it is often the lack of education or miscommunication that leads many to offer this product as a way to satisfy customers demanding a sparkle effect on their cakes and treats. Many new or smaller establishments do not know that the use of any non-toxic glitter that does not include 100% FDA Approved Ingredients put them in violation. The FDA states that "large commercial bakery or a small, home-based business – to produce food that complies with the applicable FDA regulations and state and local laws. Manufacturers of food containing unsafe ingredients are potentially subject to FDA enforcement actions to keep unsafe products out of the marketplace."
Never Forgotten Designs (NFD) researched for years and it wasn't until spring 2017 a new product was offered to them to test and see if the product would be what they had long been looking for. A sparkle effect that would NOT melt or break down when used with warm chocolate, added to liquid or dissolve the moment it came in contact with moist buttercream. With having customers that could potentially use this product that are globally known with lots of eyes watching, NFD had a duty to spend extensive time researching the ingredients, reviewing FDA correspondence and laws that regulate glitter and dust products marketed as food-safe.
To clear one thing up, the FDA will not offer FDA approval on new product that come on the market that do not have new ingredients. Since Jewel Dust® uses no new ingredients, the product individually can not have it's own stamp of approval, though every FDA inspector or compliance officer I have met with when reviewing, has stated all the ingredients listed are on the safe list. Again, this comparison would be the same for someone making a new recipe and selling in their bakery. As long as all approved ingredients are used, your new edible offering does NOT have to have individual approval before you can offer it it for sale and as edible. That being said, we were reported to the FDA this past summer for selling the new food Grade Dust by a concerned baker, though not something any business owner wants to deal with, as it is scary to be reported, we had nothing to hide and after providing documentation and sharing information about the US based manufacturer, the case was closed as no codes had been breached. Later the baker went on to purchase the Jewel Dust from us and it is a story that we will share to help people understand that this product meets the edible code because it contains only FDA Approved ingredients.
NFD is regulated as a FDA inspected food manufacturing facility and in the month of November, compliance officers come in and inspected not only the lollipops, sugar art unicorn horns and mini beer bottles for compliance, but also the products that we sell to our customers and market as "food-grade" and "edible". Jewel Dust® was specifically a product under the magnifying glass during that nearly 4 hour inspection as it is new and a true edible glitter has been a topic of debate for years as most consist of plastic.  Jewel Dust passed our inspections and we encourage our customers and potential customers to research the regulations set forth by the FDA.
As a FDA Inspected Food Manufacturing Facility we are inspected for many things, including showing a paper trail for where we buy our ingredients and products that we offer. NFD is also regulated for temperature, storage, packaging and other repackaging standards to keep the integrity of our products and comply with federal and local food codes.
So back to the sparkle! After months of testing, selling, hearing feed back from customers and using it on thousands of products we are confident this is exactly what the market has needed, A true edible glitter with a sparkle effect using only FDA approved ingredients. There have been a lot of questions and many you will have to find out on your own. But, we will say this, yes, you maybe covered in sparkles and when consuming, it is not uncommon to have a little extra sparkle when you smile. Use sparingly, a little goes a long way!
Here is is used on buttercream with a gorgeous sparkle effect that reflects light.
Read more about the FDA's Stance on Edible Dust Here:
https://www.fda.gov/Food/IngredientsPackagingLabeling/FoodAdditivesIngredients/ucm481466.htm
To Purchase Food Grade Edible Jewel Dust® Shop at Never Forgotten Designs Here:
https://www.neverforgottendesigns.com/products/100-fda-approved-edible-jewel-glitter-dust

Jewel Dust® by Confectionery Arts International is available in 20 Colors and offered in Saving Sets By NFD